How to Avoid Scams During COVID-19
April 7, 2020 • 6 minute read
Protect yourself from coronavirus fraud.
With the COVID-19 pandemic underway, protecting your finances and personal information is more important than ever. While there will likely always be issues regarding unscrupulous activities, such as phishing, the current desire to find help and get more information about the coronavirus can leave you especially vulnerable. It's crucial to be aware of these scams so you can protect yourself, your family and your money.
Smishing scams: The latest attempt to steal information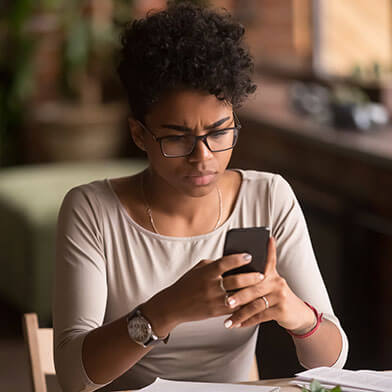 The term "smishing" is something relatively new. It combines the letters SMS (short message services or text message) with phishing, since it's directly related to scams you may receive via a text on your smartphone. These deceptive text messages may encourage you to click on a link, which will then request that you provide personal information, such as your Social Security or credit card number.
What can you do to avoid these types of scams? If you receive a text from an unrecognized number, or if it's not from someone on your contacts list, delete it immediately and do not click on any links or respond.
Local governments might send a notification to your smartphone in times of crisis, but these are general, informational announcements that will never ask you to divulge your private information. A common red flag related to smishing scams is if the text contains blatant misspellings or incorrect grammar. A good rule of thumb is if you don't recognize the sender, delete the text from your phone or do an internet search to find out more about the source.
What can you do about robocalls?
Another common scam that many people fall prey to is robocalls. These phone calls are automatically generated and typically include a recorded message urging the person to return the call or face the threat of fines or an arrest.
In recent years, fake Internal Revenue Service (IRS) phone calls have been discovered that have cost some Americans thousands of dollars. Because fraud against taxpayers is so common, the IRS provides scam alerts on its website to keep consumers informed of what to look out for.
You might receive a robocall regarding the pandemic, urging you to report to your local hospital or to call a phone number for a branch of your local government. These calls can sound threatening, and unfortunately, some frightened people may call back and surrender their private information or financial records.
If you receive a phone call that sounds suspect, block the number and do not return the call. Some current examples of robocall scams related to the coronavirus include messages about testing sites and how to obtain medical or sanitation supplies. Other robocalls may urge you to contact the caller about how to get health insurance coverage or how to get tested for the coronavirus if you are a Medicare recipient.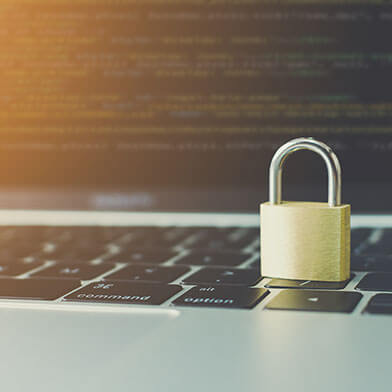 And finally, be aware of any phone calls prompting you to call about getting help paying your mortgage. Your lender will contact you directly — either by US postal mail, email or by a phone call from an actual human being — regarding any mortgage assistance you may need.
Avoiding phishing scams
Phishing scams are one of the most common forms of scams, and they tend to be more prevalent during times of crisis like the COVID-19 pandemic. These scams occur when criminals try to trick their victims into exposing personal information. This can include website passwords or financial data, such as your bank account or credit card number. They may even attempt to get your Social Security number, which can put your identity at serious risk. Once the data thieves get your information, it's easy for them to move on to infiltrate other aspects of your life, including your email and social media accounts and your money.
A phishing email may appear to be legitimate and could even feature "official" logos such as those of the Centers for Disease Control and Prevention (CDC), the IRS or other major governmental agencies. Here are some red flags to be aware of to help you look out for phishing scams:
You receive an email offering free goods or services.
The email contains fake receipts or invoices that you know you didn't pay.
You're getting a sudden influx of suspicious activity report emails about private accounts.
Emails are asking you to verify your personal information.
Most phishing emails have an urgent tone, so pay close attention to anything that seems pushy or demanding.
In order to protect yourself and others, report any phishing scams you receive to the Federal Trade Commission (FTC) as soon as possible. This agency works diligently to track and take down scammers. Reports can be made directly on the FTC website. You can also report scams to the Washington State Attorney General's Office. The more consumers report these issues, the better agencies can combat them to keep everyone protected.
How to spot fake websites
Another common scam that many people may be vulnerable to is fake websites. Make sure any site you visit is secure and encrypted. Look for URL links that begin with "https://," which should indicate the website is secure. It's crucial to note that not all websites with this prefix are entirely safe. If you don't recognize a website or something looks "off," it's best to avoid using it to purchase products or to enter any of your personal information.
The best way to avoid falling victim to fake websites is to make purchases only from sites and companies you're familiar with. Never click on a link from an email you don't recognize or trust, as it could lead you to a fake or phishing website. If you discover a fake website, report it to the FTC immediately. The sooner these websites are exposed, the sooner they can be taken down, which will help other innocent people.
A good rule of thumb regarding any type of scam is to trust your instincts. If something doesn't look right, it probably isn't.
How else can you protect yourself?
Having a good awareness of the scams that tend to increase during times of crisis is your first line of defense against becoming a victim. Here are a few other tips you can use to help you avoid giving away your private information to scammers: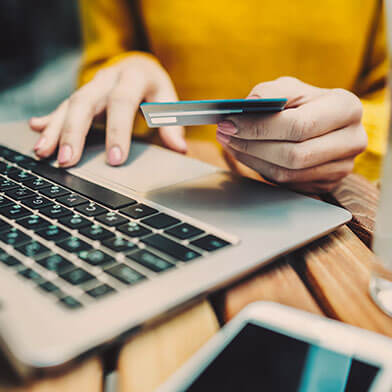 Try to get all your information about the coronavirus directly from trusted sources, such as the CDC and the World Health Organization. You should also listen closely to local and national authorities regarding things like testing for the virus or how and where to receive treatment if you show any symptoms.
Donating to a trustworthy charity is good, but it's important to be aware of potential charity-related scams during this time. Any emails or phone calls asking for cash, or those that make you feel pressured, should be ignored. If you decide to donate, use your credit card as an extra measure of protection and make sure that the charity is legitimate.
While it might seem tempting, do not pay for any coronavirus testing kits that are being sold online. These companies are not currently authorized to sell any form of a testing kit, and they may steal your information, sell you a fake test or never send you anything at all.
The COVID-19 pandemic is spreading throughout the globe, but it's no time to let your guard down when it comes to possible scams. Follow these tips to help you stay safe so you can protect yourself and loved ones from becoming victims.
If you're ever concerned about your WSECU account, or if you receive a suspicious text, call or email, please feel free to reach out to our Contact Center so we can assist you. Make your account stronger by adding a secret code word and sign up for fraud alerts to help you stay aware of the ongoing issues related to phishing and other scams.
We're here to help
---
Have you been affected by COVID-19?
If you're experiencing a loss of income financial challenge, WSECU is committed to helping you get the support you need.
---