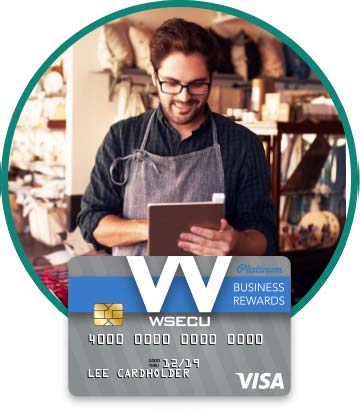 A credit card for your business
There's a lot to like about our Business Platinum Rewards Visa ® card, including Reward points on all qualifying purchases. Sounds like a pretty good deal, don't you think?
Low, variable rate
No annual fee
No foreign transaction fees
Reward points
25-day interest-free grace period on purchases
Generous credit limit
Same low rate for balance transfers
Business Platinum Rewards Credit Card
Purchases, cash advances and standard balance transfers
Account Attributes
More Information
Calculator
Should you consolidate your debt? This calculator is designed to help determine if debt consolidation is right for you.
Calculator
The credit card optimizer helps you determine the best distribution of your credit card debt. By entering your credit card balances, rates and credit limits this calculator determines which balance transfers will produce the greatest savings.
Calculator
Determining which loan provides you with the best value involves more than simply comparing monthly payments. Use this calculator to sort through the monthly payments, fees and other costs associated with getting a new loan.