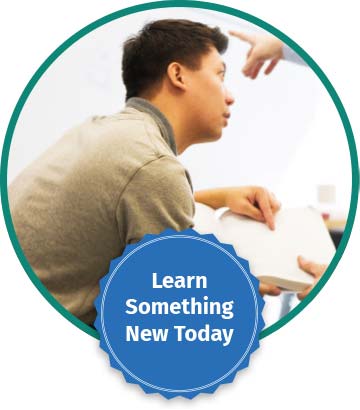 Improving your financial health
Understanding how to make money management easier, read a credit report, reduce financial stress, the steps for buying a home or what to do when you experience identity theft are a handful of topics you can learn more about. There are multiple ways to learn:
Interactive tutorials
Videos
Personal consultation
In-person workshop (for groups of 10+)
Articles
Calculators
Much, much more

Financial Wellness Options
BALANCE Financial Fitness
Receive free financial assistance from BALANCE's counselors who are experts in the field of personal finance and credit.
Program Offerings
General money management
Goal setting
Spending and savings plans
Credit report review and education
Debt management
Buying your first home
More Information
Everfi Financial Education
Explore self-guided interactive tutorials to drive greater financial understanding while working through real-life scenarios.
Program Offerings
Credit scores and reports
Building emergency savings
Budgeting tool
Considering homeownership
Estate planning
Retirement Planning
More Information
WSECU Financial Wellness Workshops
WSECU financial education experts will bring workshops to your organization (groups of 10 or more) free of charge.
Program Offerings
Credit Reporting 101
Education Payoff
Emergency Financial First Aid Kit
Financial Stress Management
Identity Theft
Scams, Shams and Your Money Matters
More Information
How to
It's important to stay on top of your credit – did you know you're entitled to one free credit report from Experian, TransUnion and Equifax every 12 months?
Financial Education
2 minute read
Calculator
One of the most important aspects of controlling your budget is to determine where your money is going. This calculator helps you do just that. By entering your income and monthly expenditures, you can see how much you have left to save and where your money is being spent.
Calculator
Having adequate emergency savings can make unforeseen unemployment, auto repairs, medical emergencies, property damage and even legal issues more manageable. With adequate emergency savings, you can focus on how to best meet your family's needs, rather than worrying about finding the money to handle these difficult situations.