Recreational Vehicle Loan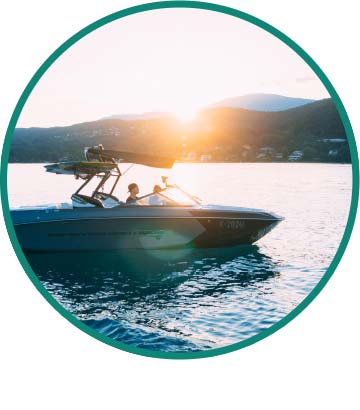 For your boat, motorcycle and RV
Here's what we offer:
New vehicle financing on current model year
Used vehicle financing available
Apply online through our mobile and desktop application
Apply on the spot at participating dealers
Fixed rates and flexible terms
Check the status of your RV loan application
RV Loan Rate Tables
Motorcycle Loan
More Information
RV Loan (New/Used)
More Information
Boat Loan (New/Used)
More Information
Maximum advance may include sales tax, license, and warranty, depending on your credit history. Your rate and the financing terms (such as Loan-To-Value, Maximum Amount and Payment Period) that you qualify for will be determined by your personal credit history, vehicle mileage, loan term, collateral and vehicle age. Proof of income may be required. All loans are subject to our lending policies.
*Rates quoted are for loans with automatic payment. Rates for all loans without automatic payment will be 0.25% more.
Equity Take-Outs: We will finance up to the LTV listed for purchases per loan type.
Payment examples:
Motorcycle: $16.98 per $1,000 at 6.84% APR for 72 months
Boat: $10.31 per $1,000 at 7.04% APR for 144 months
RV: $9.67 per $1,000 at 8.19% APR for 180 months
Rates and terms listed are current as of December 17, 2018. Rates and terms are subject to change at WSECU's discretion.
Calculator
Use this calculator as your first step in determining your ability to qualify for a loan. While this calculator can't guarantee you will qualify for your new loan, it is a good check point to see if it is within your means.
Calculator
Should you lease or buy your car? Use this calculator to find out! It calculates your monthly payments and your total net cost. By comparing these amounts, you can determine which is the better value for you.
Calculator
Enter your desired payment – and let us calculate your loan amount. Or, enter in the loan amount and we will calculate your monthly payment.