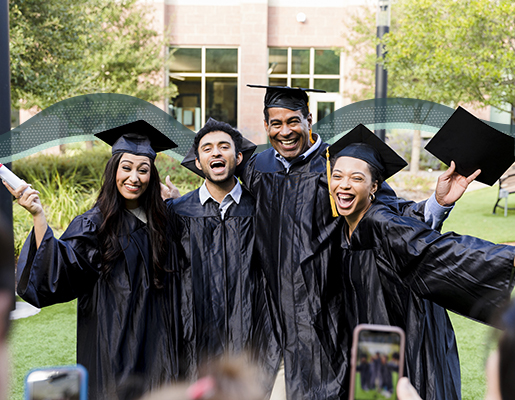 Helping you achieve your goals
Every year we extend an invitation to our members who are pursuing higher education to apply for a scholarship. Last year, we awarded nearly $100,000 to 38 recipients. Read more about the program below and scroll down to meet our most recent recipients.
The application period runs December to February each year.
Recipients are selected and notified in the spring.
WSECU members of all ages are welcome to apply.
$2,000 is awarded for two-year colleges and vocational schools.
$3,000 is awarded for four-year undergraduate and graduate programs.
2023 scholarship recipients

Alexandria Weber
Washington State University

Alisha Nguyen
Washington State University

Andrea Hartwig
University of Washington - Seattle Campus

Bilqis Alawi
Oregon State University

Boden Bergford
Clover Park Technical College

Collin Bannister
Washington State University

Conley Doyle
University of Montana

Elke Moerkeseth
Dominican University of California

Emily Cowdrey
North Idaho College

Feliz Altheimer
University of Washington - Bothell Campus

Helen Locke
University of Washington - Seattle Campus

Helen Neuroth
University of Washington - Seattle Campus

Isabella Kondrat
Georgetown University

Jacqueline Nyumoo
Renton Technical College

Jaide Reisenauer
North Idaho College

James Skinner
South Puget Sound Community College

Jonathan Holcombe
Harvey Mudd College


Kamaile Paikuli
Brigham Young University - Provo Campus

Katerina Britt
Clover Park Technical College

Lindy Muttel
Evergreen State College

Maleah Wink
Clover Park Technical College

Marcus Rettig
University of Mary

Marin Bender
Washington State University - Tri Cities Campus

Melody Godinez
Bellevue College

Miriam Al-Saedy
Washington State University

Piers Shultz
South Puget Sound Community College

Rasool Ray
University of Washington - Seattle Campus

Ryan Clark
Western Washington University

Samuel Ortega
Whitworth University

Saniya Sampson
Spelman College

Steinar Goheen
Washington State University

Thi-Thanh Nguyen
Saint Martin's University