Everything You Need to Know to Fill Out the FAFSA
September 1, 2021 • 16 minute read
Everything You Need to Know to Fill Out the FAFSA
If you're planning on attending a college or university in the United States, chances are you've heard of the Free Application for Federal Student Aid, better known as the FAFSA. The FAFSA is required for anyone applying for federal financial aid — including grants and loans — to cover expenses for higher education.
Because it can potentially be a long and somewhat confusing application process, many people dread filling out the FAFSA. However, completing your application is much more straightforward once you know the who, what, when and how of filling it out. To help you feel more confident when you submit your FAFSA, we've compiled some frequently asked questions, details about the types of documents you'll need, important deadlines and a step-by-step process to help ensure your FAFSA is completed correctly.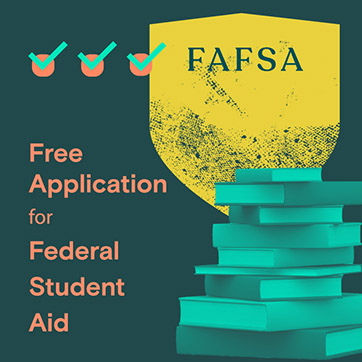 What is the FAFSA?
The FAFSA is required to receive federal financial aid for higher education, including federal grants, need-based scholarships, federal work-study programs and federal student loans. To receive federal financial aid, you'll need to fill out the FAFSA and submit it before the start of each school year you plan to attend. For example, if you're enrolled at a four-year university and would like to receive financial aid each year, you'll fill out the FAFSA four times.
While completing the FAFSA is not required as part of the application process for many private scholarships, it is a preliminary step to receive more substantial financial aid scholarships. For example, submitting the FAFSA is one of the six necessary steps to qualify for the College Board's $40,000 Opportunity Scholarships. Additionally, by simply submitting your FAFSA, you'll automatically qualify for the College Board's $500 Opportunity Scholarships.
To receive as much aid as possible, it's recommended that you submit your FAFSA sooner rather than later. You'll have a better chance of receiving financial assistance as an early applicant, and you'll also be better prepared to budget for the upcoming year.
Who needs to fill out the FAFSA?
All students who are applying for higher education are encouraged to complete the FAFSA, even if they don't believe they'll qualify for need-based student aid or don't plan on applying for student loans. It's a common misconception that only students from low-income families can benefit from completing the FAFSA. In some cases, students from more affluent backgrounds may qualify for federal financial aid, but only if they complete the FAFSA before the deadline.
Each year, there are millions and sometimes billions of dollars left on the table that could have gone to eligible students had they completed the FAFSA, so students are encouraged to apply if they'd like to receive a portion of these funds.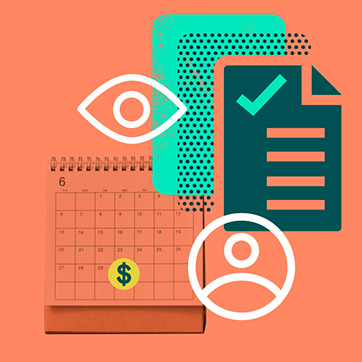 Steps for successfully submitting the FAFSA
You may either fill out the FAFSA online at the U.S. Department of Education's website or on the myStudentAid app. Alternatively, you may print out this FAFSA form, fill it out and then mail it to the address listed on the form. It's worth noting that the online platforms offer free guidance during the application process, which can help minimize application time and potential errors.
On average, filling out the FAFSA takes about an hour for most applicants. However, if you're prepared and know what to expect, it may take under an hour. To complete the FAFSA in the most efficient way possible, follow these six steps:
Step 1: Create your FSA ID.
The first step in completing the FAFSA is to create your Federal Student Aid (FSA) ID, which will allow you to access the U.S. Department of Education's online platform. Each applicant's FSA ID is unique and acts as a legal signature, which means it shouldn't be used by or shared with anyone other than the applicant.
Also, keep in mind that you'll need your FSA ID each year you fill out the FAFSA, and it will stay with you throughout the life of your loans or aid. For this reason, it's recommended that you use a permanent email address when creating your FSA ID. If you use a current high school or college email address that you'll no longer own in a couple of years, you may not be able to access this critical information in the future.
To create your FSA ID, visit this Federal Student Aid page. You'll be asked to provide your Social Security number, full legal name and date of birth. At this point, you'll need to create a unique username and password and choose your security questions. The security questions will help you access your account if you forget your password. If you're still listed as a dependent, you'll need your parent or legal guardian to create an FSA ID as well.
Step 2: Gather your documents for the FAFSA.
To avoid the frustration of searching for information during the actual application process, gather your needed documents ahead of time, such as your W-2 forms, bank statements and tax returns. Although the documents you'll need to complete the FAFSA may vary depending on your personal situation, such as citizen or dependency status, the following sections list some of the typical documents needed for the FAFSA based on U.S. citizenship. If you are not a U.S. citizen, refer to the FAFSA site for details about the necessary information and documents for application.
Documents you'll need if you are a dependent and a U.S. citizen:
Your Social Security card
Your driver's license (if you have one)
Your latest federal income tax return
Your latest IRS W-2 forms
Your latest untaxed income records
Your current bank statements
Your parents' latest federal income tax return
Your parents' latest IRS W-2 forms
Your parents' latest untaxed income records
Your parents' current bank statements
Your parents' current investment and business records
Documents you'll need if you are independent and a U.S. citizen:
Your Social Security card
Your driver's license (if you have one)
Your latest federal income tax return
Your latest IRS W-2 forms
Your latest untaxed income records
Your current bank statements
After gathering your needed documents, you'll be ready to begin filling out the FAFSA form — which should go smoothly with the information you need at your fingertips.
Step 3: Answer the FAFSA questions.
Although the FAFSA form contains questions that may involve research or documentation, you should be able to answer most of the questions using the information from the documents that you've already gathered. However, the answers to some questions may be more complex depending on your personal situation. For example, if your parents are divorced, you'll first need to determine which parent is your custodial parent and use only that parent's information to complete the FAFSA. Other questions on the FAFSA form that may require additional information involve scenarios such as having parents that never married, having one or both parents who've been institutionalized, living with legal guardians or foster parents, or being legally emancipated.
Additionally, for some questions within the financial section of the FAFSA, applicants may be uncertain whether they should report their parents' or their own financial information. The answer comes down to your dependency status. If you're planning to apply as a dependent student but aren't sure what information to include, consult the Federal Student Aid site. The information there covers a wide range of scenarios, including separated and divorced parents, stepparents, widowed stepparents and absent parents.
There may be similar questions in the FAFSA for which you won't immediately have the answers, so you may want to research the FAFSA requirements based on your personal situation before attempting to fill out the application. Taking the time to do this will help ensure you can answer the questions correctly and provide the necessary information before submitting your FAFSA.
Step 4: Submit your tax return information for the FAFSA.
When you get to the tax return portion of the FAFSA, you'll have the option to manually enter your required tax return information into the FAFSA form or automatically enter it through the Internal Revenue Service Data Retrieval Tool (IRS DRT). If you've gathered all the required documents as previously outlined in Step 1, you'll have all the information you need to manually enter your tax return information if you wish.
However, for those who don't have their tax returns handy, the IRS DRT can import your taxes directly into the form. Using this tool also ensures the accuracy of the information you submit and can save time. To use this tool, you should see a button labeled "Link to IRS" in the financial information section of the form. Select this button and follow the on-screen instructions to automatically import your latest tax return information into your FAFSA form.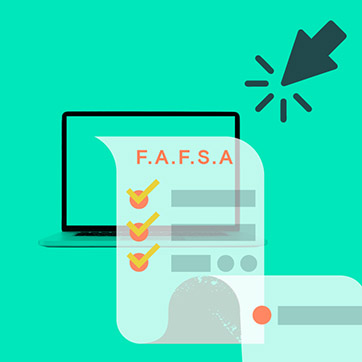 Step 5: List the schools to which you're applying.
Next, you'll provide names and contact information for the schools you're applying to; you must list at least one school. The schools you list on the FAFSA will automatically receive your FAFSA information to determine the amount and type of aid you may be granted. If you haven't decided where to apply, don't worry. You can update your FAFSA form with additional schools later.
If you're planning to apply to several schools, note that the online version allows you to list up to 10 schools, while the PDF version of the FAFSA allows up to four schools.
Important FAFSA submission deadlines
When applying for the FAFSA, there are three major deadlines to keep in mind: college financial aid deadlines, state FAFSA deadlines and the federal FAFSA deadline. College financial aid deadlines vary among colleges and universities, so it's best to contact each institution's financial aid office and confirm its deadline. State deadlines for submitting the FAFSA also vary and can be verified on the FAFSA site in the "Application Deadlines section.
The federal FAFSA deadline is a fixed deadline, and it occurs on June 30 of the following academic year that you plan to attend. For example, if you plan to attend university beginning in the 2022-2023 academic year, the federal FAFSA deadline would be June 30, 2023. However, the FAFSA application is available as early as Oct. 1 of the year before the targeted enrollment date. For example, for the 2022-2023 school year, the application for students in Washington state would be available beginning on Oct. 1, 2021.
It's important to submit your FAFSA application before the deadlines so that you'll be eligible for the maximum amount of financial aid. Remember, the best strategy for applying for financial aid is to apply as early as possible.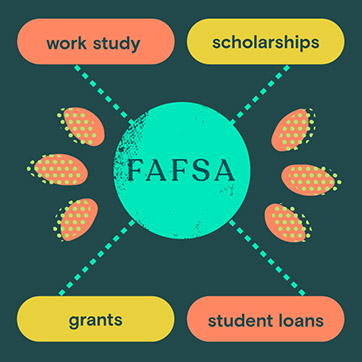 What happens after you've submitted your FAFSA?
A few weeks after submitting your FAFSA, you'll receive a student aid report that summarizes the information you provided in the FAFSA. When you receive your report, review it to confirm your information and correct your FAFSA if necessary.
Once you've been accepted to a school, you'll typically receive a financial aid award letter in addition to your college acceptance letter. Review your award letters to learn what type of financial aid you're eligible for, and keep in mind that you're not obligated to accept aid just because you're eligible for it. Although most students accept all the money that is offered in the form of grants or scholarships, it will be up to you to decide whether to accept or decline aid that is offered in the form of student loans or work-study programs.
If you feel that you need or deserve more aid than what's been offered, you may file an appeal with your school's financial aid office. These appeals are usually successful only if a student's (or their parents') financial status significantly changes between the time they submitted their FAFSA and the time the appeal is filed. Examples of a significant change in status include loss of income or newly acquired medical debts.
Finally, remember that you'll need to resubmit the FAFSA each year you plan to receive financial aid or seek grants or scholarships. The submission process will be easier for subsequent years, fortunately, as you'll fill out a renewal FAFSA form. The online renewal form will auto-populate with information from your past forms, which will expedite your submission process. However, if your financial situation has significantly changed since your prior year's FAFSA submission, it may be simpler to start over from the beginning.
If you're planning to apply for higher education, take a little time to learn about the FAFSA. Knowing what to expect when completing and submitting the FAFSA can help expedite the process and guard against possible errors or omissions, which may lead to a less stressful and more successful submission.
Not sure where to start when it comes to managing your money?
---
Not sure where to start when it comes to managing your money?
Get answers, not judgment. WSECU offers pro advice to help you grow your financial future.
---