Deposit a check from anywhere using your mobile device.
Mobile Deposit makes it easy to deposit checks on the go. Download our app on your smartphone or tablet and use the Mobile Deposit feature to take and send an image of your check. The money goes right into your account — exactly as if you gave it to a teller.
Mobile Deposit tips
Endorse your check by signing the back in blue or black ink.
Under your endorsement, clearly write "For mobile deposit only."
When possible, use a dark backdrop behind your check to photograph it.
If you have a check from the IRS with two payee names on it, both people must endorse the check (sign the back) before it can be deposited.
When you're done, date and mark your check as deposited (as a reminder not to inadvertently deposit the check again).
When you use Mobile Deposit, up to $2,000 of your deposit is immediately available; the rest will need two business days for processing.
Some checks don't work with Mobile Deposit — such as checks with a cluttered design (often an issue with unemployment insurance checks and money orders).
Get Mobile Deposit on the WSECU Mobile Banking app.
---
How to Use Mobile Deposit
Step 1
Step 1: Open the WSECU Mobile Banking app and sign in.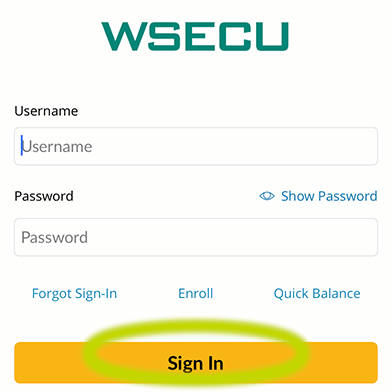 Step 2a
Step 2a: For iOS — On the bottom menu, select "Deposit" and continue to step 3.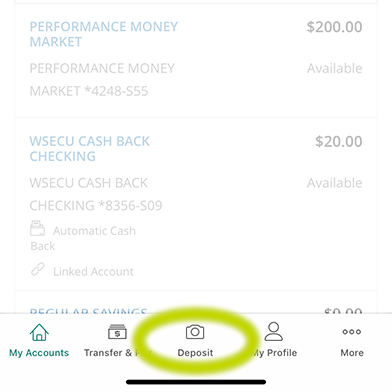 Step 2b
Step 2b: For Android — Select the icon at the top left to expand the menu.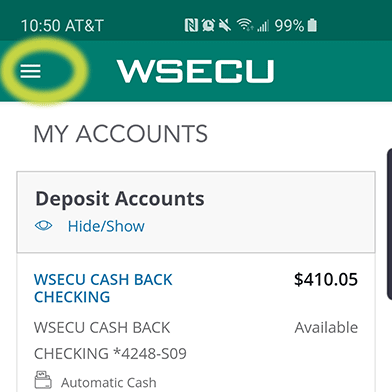 Step 2c
Step 2c: For Android — Select "Deposit"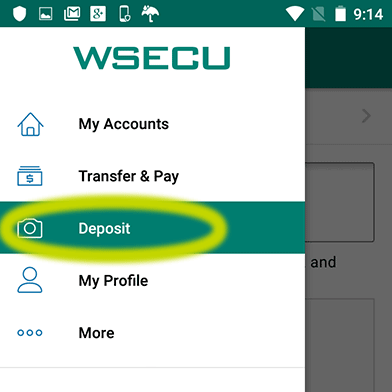 Step 3
Step 3: At the top of the screen, select the account where you want the check deposited.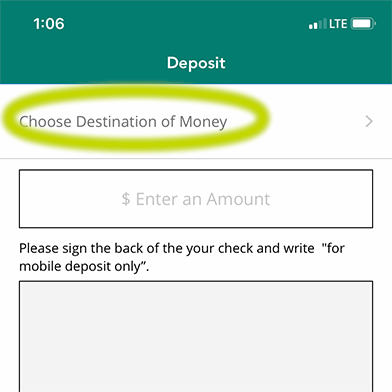 Step 4
Step 4: Enter the dollar amount of the check. Then sign the back of the check and write "For mobile deposit only."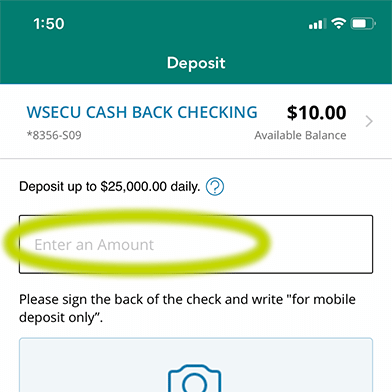 Step 5
Step 5: Select "Take Photo."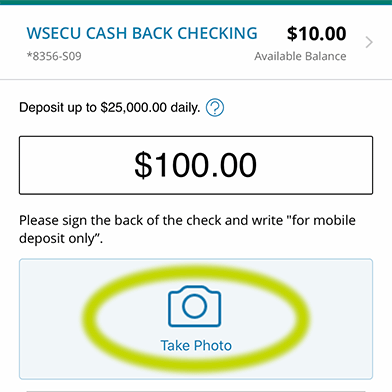 Step 6
Step 6: Hold your device above the check. The camera will automatically capture an image of your check when it is well-framed. Should you wish to turn off auto-flash, tap the flash icon. If auto-capture is unable to take the image, an option to take the image manually will appear. When the image is clear, select "Keep."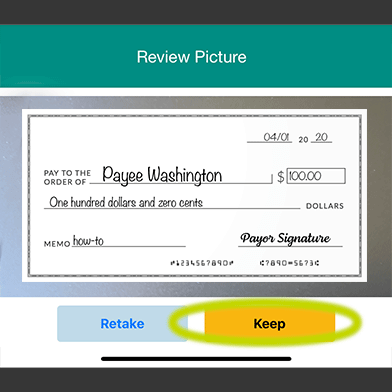 Step 7
Step 7: Follow the prompt to turn the check over. The Mobile Deposit software will automatically capture an image of the back of your check when the required endorsement is detected. When the image is clear, select "Keep."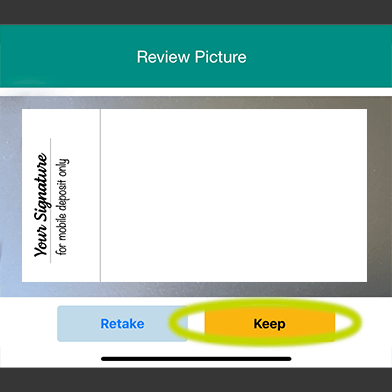 Step 8
Step 8: Review the information to ensure everything is correct. When you're ready, select "Deposit Check."