How to Get Your First Car Loan the Smart Way
June 25, 2021 • 18 minute read
How to Get Your First Car Loan the Smart Way
It's a common problem among young adults: You want a car — or a better car — but don't have the cash to buy it. Maybe you need something more reliable to get you to work. Perhaps you'd like something you can trust on a road trip. Or maybe you need a more suitable vehicle for recreational activities.
If you can't pay cash, you're going to need an auto loan. If you've never financed a car, you may not be sure how to go about it. One approach is to go to a dealer, pick out your dream vehicle and let the dealer take care of the financing for you. But if you're not savvy about car financing, this option can cost you thousands. It's not wise to buy the first car you see, and you shouldn't sign for the first loan you see either.
The good news is there are many choices you can make when securing an auto loan that will greatly reduce the total amount you pay for your new vehicle. Some choices will reduce your car loan interest rate. Others will help you finance a smaller portion of the purchase price.
What is a car loan and how does it work?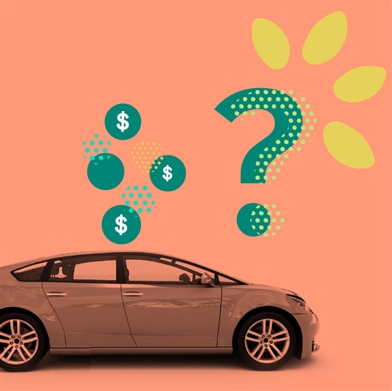 A car loan is an agreement between you and a financial lender. The lender gives you the money to buy a car, and you agree to pay it back over time with interest.
It's important to understand a car loan is not an agreement between you and a car dealer. Sometimes it looks that way, especially if a salesperson helps you fill out the application. But in that case, the dealer is merely facilitating the loan. The transaction is with a credit union, bank or other financial institution or lender. Even if the lender is GM Financial or American Honda Finance Corp., the lender and the dealer are two separate entities.
Another key point is the dealer usually earns a fee. The lender compensates the dealer for originating the loan. That means the dealer isn't arranging a loan as a favor but has an incentive to initiate the loan. Car dealers don't only compete for your business by selling vehicles; they also compete by offering loans.
You don't have to buy a car from any specific dealer, and you don't have to borrow money through the dealer either. You can buy a car with a loan you get elsewhere.
What are the components of a vehicle loan?
There are several aspects to consider when getting a car loan. Here are some terms you should be familiar with before you go car shopping:
Down payment — the amount of money you pay in cash that's not financed
Principal — the amount you owe on the loan (starts with the original loan amount and reduces with each loan payment)
Interest — the extra money you pay above and beyond the principal, determined by the interest rate
Term — the length of time you'll make payments on the loan — for example, 36 months for a three-year loan
Monthly payment — the amount you pay on the loan every month (mostly goes toward interest at the beginning, but mostly goes toward principal at the end of the loan)
Now that you understand some important terms, let's explore some ways you can reduce your total investment in a new or new-to-you car.
Check your credit score.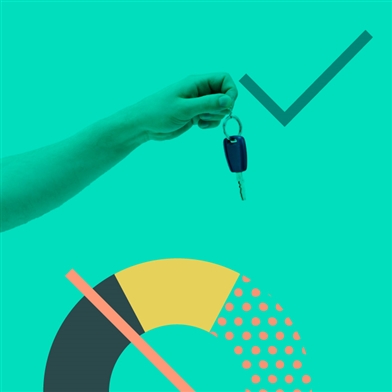 Before you begin shopping for a new vehicle, it's important to know your credit score, especially if you need financing to purchase a car. Checking your score gives you the opportunity to make sure it's accurate. If it's lower than you think it should be, you'll want to check for errors and get them corrected.
Knowing your credit score will also give you an idea of what kind of interest rate you can expect. If your credit score is low, you may still be able to get a car loan, but you'll likely pay higher interest.
Your financial institution may allow you to access your credit information for free. You can also visit AnnualCreditReport.com to get your free credit report from all three credit reporting agencies once per year. Having this information will help give you a better idea of what to expect when applying for an auto loan.
Save for a down payment.
The larger your down payment, the better your car financing. That's because the more you pay down, the less you end up financing over time. For example, having at least 20% to invest as a down payment on your vehicle purchase:
Allows you to finance a smaller portion of the car's cost
Gives lenders greater confidence you'll make your payments on time
May reduce your interest rate
May shorten the duration of your car loan
Lenders like to know you have some skin in the game because that applies pressure on you to make the payments and see your loan agreement through to the end. Additionally, making a larger down payment on your vehicle spares you the agony of being upside down on your auto loan, meaning you owe more than the car is worth. This can be especially problematic if you find yourself in a position where you need to sell your car.
Consider a car loan outside the dealership.
Although it's tempting to walk into an auto dealership and go with the loan that offers you the lowest monthly payment for a new vehicle, that's almost never the best way to go about getting a smart car loan. When you take that approach, dealerships look for the most advantageous loan for their needs. Your mission, however, is to find the loan that's most beneficial for your needs.
Most local credit unions offer auto loan financing, often at reduced rates for members. Some credit unions even offer auto buying services to assist you with securing outstanding financing and low prices on select vehicles. If you go to a dealership, you run a greater risk of high-pressure financing offers and may even be subject to unnecessary fees and restrictions.
Get preapproved for a car loan.
There are many benefits to getting preapproved for a car loan. For one, you'll walk onto the car lot knowing how much vehicle you can afford and what kind of interest rate you qualify for. This can help you set your budget and narrow down your choices.
Additionally, since you already have your financing arranged, most dealerships will view you as a cash buyer. This allows you a little more wiggle room when it comes to negotiating the best price.
The benefits don't end there, though. Many dealerships will attempt to secure a better financing offer for you. Of course, you'll want to compare all terms, fees, penalties, etc. before choosing a different financing option.
You can usually apply for preapproval online, via telephone, or in person at your local credit union or bank branch. Keep in mind a loan preapproval does not obligate you. If you find a better deal elsewhere from either another lender or a dealership, you're free to take that loan instead.
Compare rates from multiple lenders.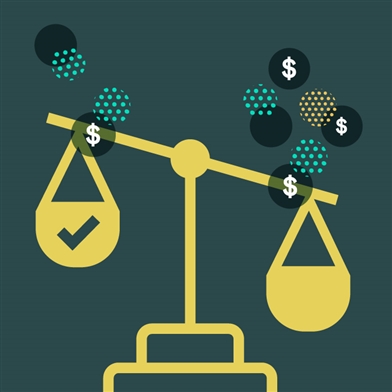 Another good rule of thumb is to compare interest rates and loan terms from more than one lender. Ideally, you'll want to compare rates from at least three lenders before choosing the one that works best for your needs.
Most lenders will run a hard credit inquiry when you apply for an auto loan, which can affect your credit score. But, if you apply with multiple lenders within a short time frame (usually within 14 days), those pulls are often viewed by the credit bureaus as a single hard inquiry rather than multiple. That means you can compare your lending options while minimizing the impact to your credit score.
Consider a co-signer for your car loan.
A co-signer is someone who backs the loan, agreeing to pay if you can't. If you have a friend or family member with better credit than you, a co-signer may get you a lower interest rate on a car loan.
This is not an option to take lightly. Although no one expects the worst to happen, we just endured a pandemic that left many people jobless and unable to pay the bulk of their bills. Life happens, and sudden changes like these can put a co-signer's good credit at risk.
If you're unable to get a decent interest rate on your own and can't get a co-signer, you could consider buying a safe and functional used car for cash. In some cases, the cost will be less than a 20% down payment on a new car, and you'll owe no interest.
Look beyond the interest rate.
When getting a car loan, many consumers only look at the interest rate and the amount of their monthly payment. They fail to notice all the fees tacked onto those payments or even to consider other expenses that go along with purchasing a car, such as:
Taxes
Title fees
Hidden fees
Payoff penalties
Insurance
In addition to those, loans often include optional add-ons. One of the most common is an extended warranty. If it makes you comfortable to know all major repairs will be taken care of for the first few years of owning your vehicle, go ahead and buy an extended warranty. It may save you money. Remember, however, that dealers wouldn't offer these warranties if they didn't generally work in the dealer's favor.
Another possible add-on is guaranteed asset protection (GAP) insurance, which protects you if you owe more than the car is worth. If your car is totaled, this insurance will pay the difference between the loan balance and the assessed value of the car. However, if you make a substantial down payment and arrange a shorter loan term, you won't need GAP insurance.
There are also credit insurance policies that will pay some or all of your loan if you die, become disabled or lose your job. These aren't necessary for most people. If you need more insurance of any kind, you can generally get it at a better price from an auto insurance provider.
All of these things affect the final cost of your vehicle and can greatly impact the affordability of your new car. Auto financing is a tricky business. Make sure you factor in all the costs involved to determine if the car will work with your budget for the duration of your loan.
Opt for a shorter loan term.
The longer your car loan term, the more money you'll end up paying for the car. Although some lenders will extend the term of the vehicle loan to lower your monthly payment, that doesn't do you any real favors. It may get you in the car you desire, but the cost will be higher for that vehicle than it would with a shorter loan term.
New loans are available with terms up to 72 or even 84 months. When you accept a term for that length of time, you may at some point find you're upside down on your auto loan. This limits your ability to trade in your vehicle or even sell it. It also means, if you're in an accident and the vehicle is declared a total loss, your insurance may not cover the total balance you owe on the loan.
A shorter loan term means you'll pay less overall for your car, even if it does make your monthly payment higher. It also eliminates many of the negatives that go along with stretching payments over an extended amount of time.
Consider biweekly payments.
Some lenders allow borrowers to opt for biweekly payments rather than monthly payments. Since there are only 12 months in a year but 52 weeks, this allows you to make one additional monthly car payment each year. If you have a five-year auto loan, for example, it means you can pay your car off a few months early, saving a fair amount of interest in the process.
If you go with this option, you'll want to make sure your auto loan doesn't have an early payment penalty. However, if you're wondering how to pay off a car loan fast, adding payments this way will get you off to an excellent start.
Price insurance based on a specific type of car.
Once you've decided on the type of car you want, or the specific make and model, don't forget to get estimates on auto insurance for your new car. If you have auto insurance now, the price could change when you buy a new vehicle, even if it's a newer used car.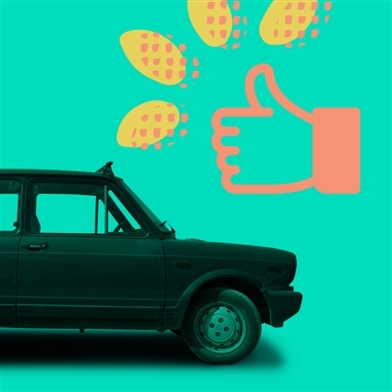 Some cars present greater risks to insurance companies and have higher costs based on those risks. Follow the rule of three when comparing insurance rates: Get three quotes. This allows you to choose the one that offers the most features and benefits for the best price.
Consider a used rather than new vehicle.
When it comes to choosing between a new or used vehicle, you'll likely pay considerably less for a used car than you would for a new one. If you need a vehicle that's still under warranty or if you want a late-model car, consider a certified pre-owned vehicle.
These vehicles are usually past the sharp year-one depreciation period, and they often have stellar warranties. You get the benefits of driving a car that looks brand-new and having a warranty on your vehicle while paying much less than if you purchased it new.
These tips will help you get your first car loan the smart way and can save you thousands of dollars over the life of your loan. Use them wisely to find the best bargains in Washington state. No matter what vehicle and loan you end up with, be sure to make your payments on time. Doing so can boost your credit score and make it easier to get your next car loan.
Get preapproved for an auto loan today.
---
Get preapproved for an auto loan today.
We make it easy to get behind the wheel of a new or used vehicle. Save time with our convenient online application and enjoy great rates and flexible terms.
---