Easy account access on the go
Manage your finances anytime, anywhere, with the WSECU Mobile Banking app. Track spending, view balances, make deposits and pay bills — securely and with ease. Loaded with helpful features for banking on the go, the app brings increased security and functionality to your fingertips.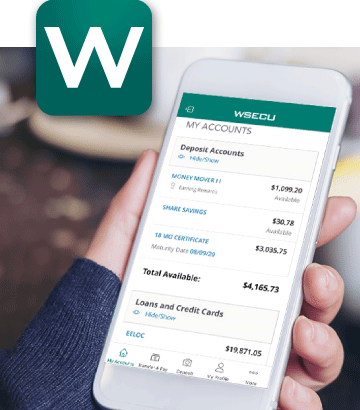 Explore the latest features
Sign in securely with fingerprint or face identification.
View and schedule one-time or recurring transfers.
Link your external accounts and transfer money.
Deposit checks with a snapshot from your mobile device.
Manage payees and set up automatic bill payments.
Schedule loan or credit card payments using debit or credit.
Temporarily lock a misplaced card to block transactions.
Create and manage account, security and fraud alerts.
Find your nearest branch or ATM wherever you are.
Don't have the WSECU Mobile Banking app? Grab your mobile device and search for "WSECU Mobile Banking" in the App Store or Google Play today!
Video 3
How to Download and Sign in on iOS
Video 4
How to Download and Sign In on Android
Frequently Asked Questions - Signing In
Frequently Asked Questions - Transfers
All types of transfers and payments can be made in Mobile Banking. Just select "Transfer & Pay" from the main menu. Then choose the type of transfer or payment you would like to make.
At the bottom of the "My Accounts" screen, select "Link an Account" and follow the steps to link your external accounts.
Note: You can transfer funds from another financial institution into your new WSECU account immediately. Transfers out of your new WSECU account cannot occur until your account has been open for 90 days.
Frequently Asked Questions - Bill Pay
To access Bill Pay, sign in to the WSECU Mobile Banking app and select "Pay a Bill" from the "Transfer & Pay" tab.
For assistance with Bill Pay, you can use Online or Mobile Banking to send us a secure message 24/7 and expect to receive a response within 1-3 business days. If you need an immediate response, you can reach us at 800.562.0999 Monday through Friday, 7:00 am-7:00 pm, or Saturday, 9:00 am-2:00 pm. Many questions can also be answered by visiting the Bill Pay Resources page.
Frequently Asked Questions - General Use
Bank securely
---
Do you know how to use Online and Mobile Banking securely?
Online Banking is simple, flexible and convenient; it can also make it easier to monitor your finances. Learn how to enroll in services like Online and Mobile Banking and follow the eight best practices for staying secure.
---