How to Travel Cheap: 10 Tips to Save on Your Next Vacation
Vacations offer a chance to get away from the grind, see new sights and refresh your mind. Although you may not have a big vacation budget to work with, there are things you can do to help you save on your next vacation. Here are 10 tips to help you get more bang for your vacation buck:
1. Establish a vacation budget.
Using credit cards to fund your vacation can be extremely costly and may leave you paying far more for your trip once all the interest comes due. To avoid that, set aside funds each month to accommodate your vacation budget, which should include:
Travel expenses: flights, fuel, car rentals, car maintenance (if you drive your own), etc.
Food: often a large expense on vacation
Lodging: hotels, Airbnb and other options
Entertainment: tour expenses, national park admission fees, museum costs, etc.
Emergencies: sickness, car troubles, accidents
The most important thing you need to do when creating your vacation budget is to be realistic — about the amount of money you're likely to spend, how much you can save before your vacation and the actual costs involved in traveling.
2. Plan ahead.
The further in advance you book hotel rooms, rental cars and flights, the more money you can save on them. The one exception is last-minute travel deals, as airlines and hotels seek to eliminate empty seats or unused rooms and offer them for a fraction of the cost. More on that later. However, if you want to control the destination and the accommodations, your best option is to plan ahead.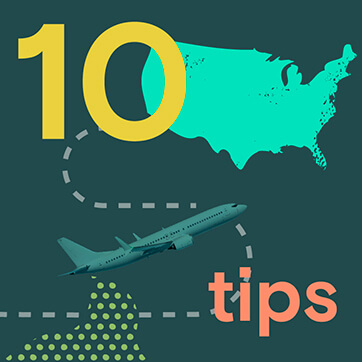 If you pay in advance for tickets, lodging, guided tours, etc. when booking, you can save even more. But doing so could place you at risk of losing that money if you have to change your vacation plans. Depending on your budget, you may want to consider travel insurance. Some credit cards provide you with travel insurance when you use your card to book, so be sure to look into what benefits you already have available.
Booking early is still a great way to save. Airlines and hotels often provide options for cancellations, within limits, if you need to change your plans closer to vacation time. The earlier you start making plans, the more your savings may be. Ideally, you'll want to make your vacation plans four to six months or more ahead of time to enjoy the greatest savings. This also gives you more time to beef up your vacation savings account.
3. Be flexible to secure last-minute deals.
Flexibility with scheduling combined with a sense of adventure can help you save even more when it comes to vacation planning.
If you find yourself with a few days off work or you come into a little extra money and think a quick vacation would be nice, last-minute bargains can be an ideal solution for vacationing on the cheap. From flight deals to reduced lodging and more, this is one of the best ways to vacation on a budget.
You may even be able to find an all-inclusive vacation for a great price by shopping around for last-minute deals. These vacation packages typically include travel, accommodations, some entertainment and food. Read the small print, though, as gratuities and excursion costs may be required but not included in the package price.
The caveat is that you may have to take a red-eye flight and wait a few hours before you can check into your hotel. Or you may find yourself visiting some exotic location you've never heard of. If you're flexible and open to adventure, a last-minute getaway can be exciting and highly affordable.
4. Choose an inexpensive or off-season destination.
If you're not picky about the time of year you go on vacation, you can save by traveling in the off season. You may even be able to score a vacation package that includes cheaper lodging, free meals or tickets to local attractions.
Different vacation destinations have different off seasons, so be sure to find out when tourist season arrives in the area you want to visit. Summer is the typical tourist season for many popular destinations, so the off season for those locations would be fall to early spring.
The off season for places with snow sports, such as ski resorts, is typically in the summer. But these resorts often have summer recreational activities, making spring or fall better options. You may also find cheap ski resort packages if you book your stay during the last week of the ski season.
High-demand and expensive vacation times to avoid are spring break, Christmas week through New Year's Day, Thanksgiving week and Independence Day.
Another option for cheap travel is to visit a national park for your vacation. The U.S. is home to more than 400 national parks. It's often less expensive to camp than to stay in a resort, and park entrance fees are generally quite affordable. In fact, many state parks offer free entrance days throughout the year.
Another way to enjoy a cheap vacation is to visit friends and family who have room for you to stay with them. This is a great way to save on food and lodging. Do make a point to cover your costs, though, rather than mooching off your loved ones. If you're a good guest and don't wear out your welcome, you may have the opportunity to visit again in the future.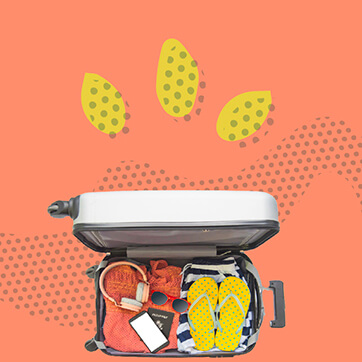 5. Travel light.
Many airlines charge fees for checked baggage. Minimize the amount of clothing and other items you carry whenever possible. If you can, pack everything you need in a backpack, duffel bag or airline roller that fits in the overhead compartment or under the seat in front of you. That way, you can avoid airline fees, and as a bonus, you won't have to wait for your luggage at the baggage carousel.
When traveling by car, lightening your load can mean spending less on gas, especially if you're traveling with a group and everyone carries a lighter load.
Traveling light offers many other benefits too. You won't be so burdened by your bags that you miss the sights and sounds when arriving at an exciting new destination, especially if you're traveling somewhere you've never been.
6. Take advantage of rewards programs.
Do you enjoy traveling or plan to travel frequently in the future? Consider joining a rewards program and using those points or miles to fund your vacation. If you struggle with managing credit card bills, this strategy might not be for you. After all, if the rewards you earn end up costing you six or seven times their value in fees or interest, you're better off paying cash. But if you're diligent about paying off your balance every month, you can actually make your credit spending work for you.
Depending on the type of rewards cards you have, you may be able redeem your points for airline tickets, hotel accommodations or even cash to use while you're on vacation. Many offer other perks as well, such as free breakfast, free Wi-Fi, discounts to local attractions and buy-one-get-one-free (BOGO) deals.
Credit cards that offer travel rewards often have yearly fees associated with them, so do your research. If the yearly fee is more costly than the rewards — or if the card offers rewards that you're unlikely to take advantage of, you may want to consider a different option.
The sooner you start working toward your vacation goals, the sooner you can begin putting your rewards to work to pay for it. However, plan carefully and choose your locations wisely to maximize the value of these rewards. And be sure to pay off your balance every month so that your rewards are actually rewarding.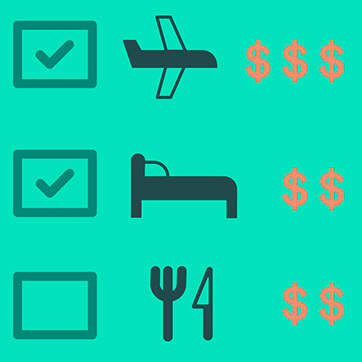 7. Split costs with others.
Traveling with friends and family allows you to divide costs among multiple people, making it a little more affordable for everyone. You may even find Airbnb, cabin or condo rentals with individual bedrooms and fully equipped kitchens that allow you to save even more, especially if everyone takes turns preparing meals.
This may make planning your vacation a little trickier as far as timing your travel and choosing a destination. But it can help you build invaluable memories with loved ones for a fraction of the cost of traveling on your own.
Of course, if you're splitting costs with friends or family, you'll want to make sure you have a game plan so that everyone's on the same page before paying for anything. The goal is for everyone who goes to have an equal experience and no one to feel they're being taken advantage of.
You might want to make plans for outings and excursions and determine how you'll split the costs for those as well. For instance, if you rent a boat on a lake or at the beach, will everyone want to go along, or will some want to do something else instead? These are the types of details it's wise to iron out before making reservations or paying deposits.
8. Dine in when possible.
Food can be a significant vacation expense. People often grossly underestimate how much they'll spend on food while on vacation. One thing you can do to minimize the costs of dining out is to prepare your own meals when possible.
Some hotels offer in-room microwaves and mini-refrigerators. Some have kitchenettes, while others offer fully equipped kitchens. In these cases, you can prepare at least some of your meals in your room each day. In addition, many hotels provide some form of continental or hot breakfast to their guests.
If eating out is a quintessential part of your vacation experience, consider limiting yourself to one meal per day in a restaurant. Whenever possible, make that one meal your lunch. Most restaurants offer cheaper prices and smaller portions for lunch that allow you to have the authentic vacation experience without the costly price tag.
Another thing you can do to reduce the cost of dining out is to find out where the locals eat. The people who live and work in an area are the best sources for outstanding and affordable local cuisine.
9. Explore different airports for cheaper flights.
One trick not everyone knows that can help reduce travel costs is to check multiple airports in your area and near your destination to see which ones offer the lowest airfare. This can save you an enormous amount of money as some airports accommodate a wider variety of low-cost airlines than other airports. Widening your search area gives you a greater opportunity to maximize your savings when coming and going.
For example — depending on where you live in Washington state and whether you're willing to travel a little further to get to your flight — you may be able to fly out of either Seattle-Tacoma International Airport or Portland International Airport to get to your destination.
You might also consider looking at alternative days of the week for travel. Some airlines only fly to specific areas on specific days of the week, meaning you'll only get those deeply discounted rates if you're willing to fly on one of those days. And some offer the same flights for lower prices on less popular travel days.
10. Take a Washington road trip.
If you're worried about funds for your vacation, a road trip may be in order. Washington offers many amazing destinations to those vacationing in the state. Some of the great attractions you can see on a Washington road trip include: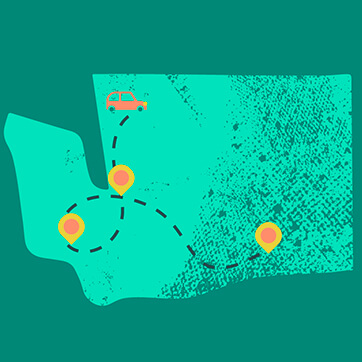 Don't discount the many beautiful beaches along the Pacific coast. At any time of year, these beaches can be food for the soul and provide endless hours of pleasure. More importantly, a beach vacation, where you spend most of your time on the beach, can be highly affordable.
Ultimately, you don't need to break the bank to enjoy an amazing vacation. When you follow these tips, you'll be able to experience the best of both worlds: a beautiful and memorable vacation adventure that doesn't put you in the red.
Save for future travels
---
Earn cash rewards to put toward your next vacation.
With the WSECU Cash Back Visa® Signature card, you can earn up to 1.5% cash back every time you use your card.*
---