Information on skipping payments
Skip a monthly payment at your discretion
Skip-a-Pay is a handy WSECU benefit you probably didn't even know you had. If your loan is eligible, you can skip your next payment. There's no penalty. It's pretty useful in a pinch.
Things to know about Skip-a-Pay
Although you can skip a payment, interest will continue to accrue.
Automatic payments may need to be managed separately.
Some loan types are not eligible (for those, the option will not appear). See below for details.
Some restrictions may apply. See below for details.
Only the primary account holder can access Skip-a-Pay. Joint borrowers can call 800.562.0999 to process a skip.
Eligible accounts that are past due still qualify for Skip-a-Pay and double skip if the delinquency is fewer than 60 days.
Double skip
Now you can skip two consecutive payments on eligible loans and credit cards. Please note that each skip must be processed separately. After processing the first skip, if your next payment is due within 30 days, you may immediately process your second skip. If your next payment due date is more than 30 days away, you will not be able to process a second skip until the payment due date is within 30 days.
Visa® credit cards are an exception. Because their payment cycles always begin on the 18th day of the month, Visa credit cards do not become eligible for a skip until the 18th day of the month prior as long as all other eligibility requirements are met.

---
How to Use Skip-a-Pay
How to use Skip-a-Pay on Online Banking
Online Banking: Access Skip-a-Pay from the Quick Actions menu.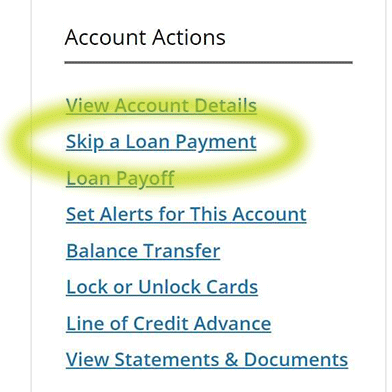 How to use Skip-a-Pay in Mobile Banking
Mobile Banking: Access Skip-a-Pay on the top carousel menu inside Loan Transaction History.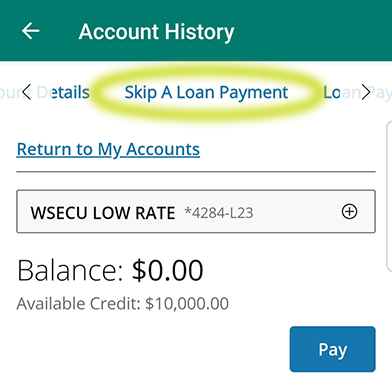 ---
Eligibility and fine print
Restrictions and fees
Auto and personal loans: Typical fee is $25 per skip.
Credit cards: Typical fee is $15 per skip.
Non-revolving loans, such as auto loans, are allowed a maximum of 6 skips for the life of the loan, with a maximum of 3 skips in a rolling 12-month period.
Revolving loans, such as credit cards and lines of credit, are allowed an unlimited number of skips with a maximum of 3 skips in a rolling 12-month period.
One double skip is allowed in a 90-day time period. It is not a requirement to take 2 consecutive skips. A minimum of 90 days and 3 loan payments is required for a loan to be eligible for a new skip.
Eligible for Skip-a-Pay
Not eligible for Skip-a-Pay
Creating a Budget
---
Want to create a budget or update your current one?
Do you run out of money before the end of the month? Create a budget so you know where your money is going instead of wondering where it went. Learn how to track your expenses and use our method to calculate a budget that is best for your needs.
---